Likhe Jo Khat Tujhe | - Sanam Lyrics
Likhe Jo Khat Tujhe Lyrics by Sanam is recreated Hindi song from the 1968 movie Kanyadaan. Likhe Jo Khat Tujhe original song lyrics were written by Neeraj and music was given by Shankar Jaikishan.
Likhe Jo Khat Tujhe' has been one of the most requested songs for us over the years! We have been waiting to share our rendition of this song with you all for a while now. Shooting and recreating this wonderful classic was a drive down memory lane for us all. Hope you like this one! Let's create new memories together with this release!
Even though we are quarantined at home, music can help take us back to a place where we can detach from the craziness outside and find peace, happiness and strength from within. We hope this song brightens up your day ❤️❤️❤️❤️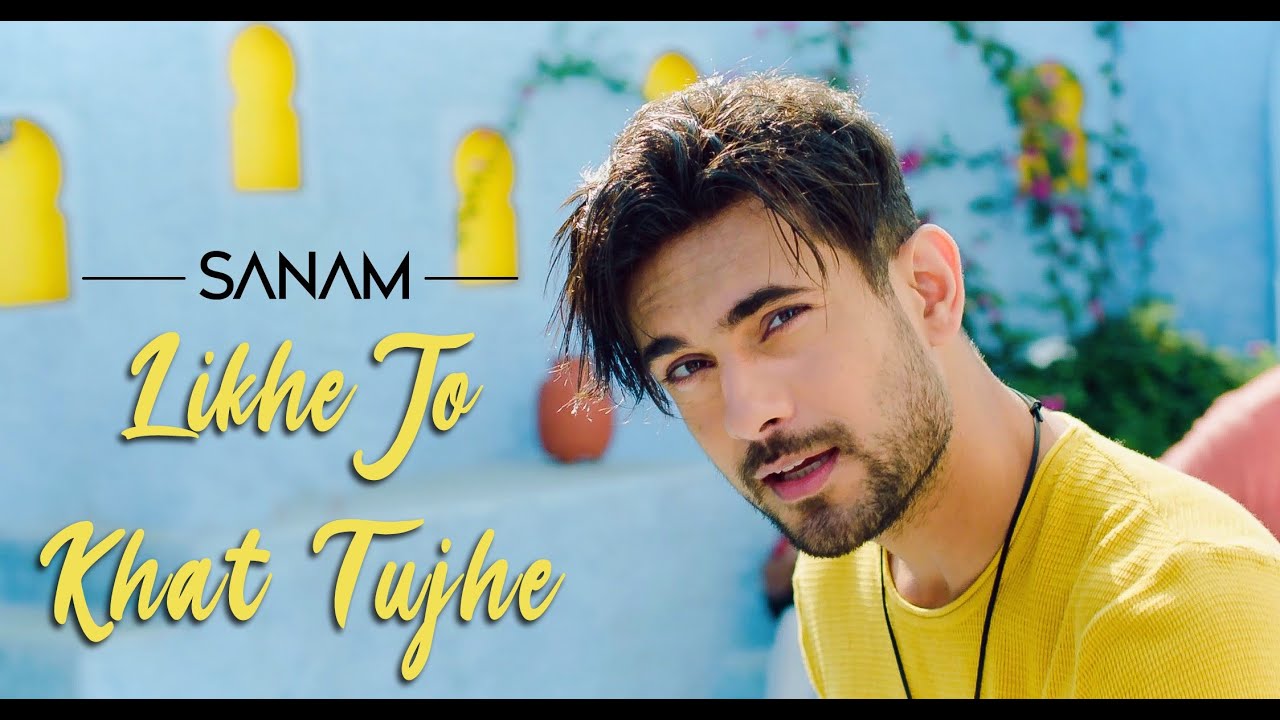 | | |
| --- | --- |
| Singer | Sanam |
| Singer | Shankar Jaikishan |
| Song Writer | Neeraj |
Likhe Jo Khat Tujhe Lyrics in Hindi
लिखे जो खत तुझे वो तेरी याद में
हज़ारो रंग के नजारे बन गए
सवेरा जब हुआ तो फूल बन गए
जो रात आयी तो सितारे बन गए
लिखे जो खत तुझे
हम्म..
कोई नग़मा कहीं गूंजा
कहाँ दिल ने ये तू आयी
कहाँ चटकी कली कोई
मैं ये समझा तू शर्मायी
कोई खुशबू कहीं बिखरी
लगा ये ज़ुल्फ़ लहराई
लिखे जो खत तुझे वो तेरी याद में
हज़ारो रंग के नजारे बन गए
सवेरा जब हुआ तो फूल बन गए
जो रात आयी तो सितारे बन गए
लिखे जो खत तुझे
फ़िज़ा रंगीन अदा रंगीन
ये इठलाना ये शर्माना
ये अंगड़ाई ये तन्हाई
ये तरसा कर चले जाना
बना देगा नहीं किसको
जवां जादू ये दीवाना
लिखे जो खत तुझे वो तेरी याद में
हज़ारो रंग के नजारे बन गए
सवेरा जब हुआ तो फूल बन गए
जो रात आयी तो सितारे बन गए
लिखे जो खत तुझे
हम्म..
Likhe Jo Khat Tujhe Lyrics in english
Likhe jo khat tujhe
wo teri yaad mein
Hazaaron rang ke nazaare ban gaye
Savera jab hua to phool ban gaye
Jo raat aayi to sitare ban gaye
Likhe jo khat tujhe
Koyi nagma kahin goonja
Kaha dil ne yeh tu aayi
Kahin chatki kali koyi
Main yeh samjha tu sharmai
Koyi khushbu kahin bikhri
Laga yeh zulf lehrai
Likhe jo khat tujhe
wo teri yaad mein
Hazaaron rang ke nazaare ban gaye
Savera jab hua to phool ban gaye
Jo raat aayi to sitare ban gaye
Likhe jo khat tujhe
Fiza rangin, adaa rangin
Yeh ithlana, yeh sharmana
Yeh angdayi, yeh tanhai
Yeh tarsa kar chale jana
Bana dega nahi kisko
Jawaan jadoo yeh deewana

Likhe jo khat tujhe
wo teri yaad mein
Hazaaron rang ke nazaare ban gaye
Savera jab hua to phool ban gaye
Jo raat aayi to sitare ban gaye
Likhe jo khat tujhe